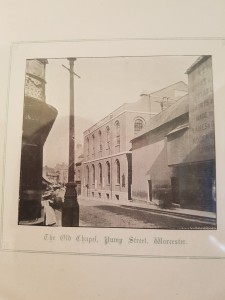 This Methodist Church of St Andrew's, was newly built and opened, on the site of three previous churches, on 6th January 1968.  Celebrations throughout 2018.   Covenant Service on Sunday 7th January 2018.   Re-union weekend 23rd — 24th  June 2018.  We would love to welcome everyone.  Please see below.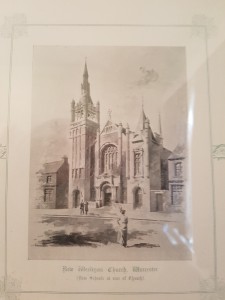 Reunion Weekend – Midsummer 2018
22nd – 24th June
To celebrate the 50th Anniversary of the building and the formation of
the newly named Church in 1968.
Weds 20th – Sun 24th – FLOWER FESTIVAL on the theme of the milestones
in world history during this half-century. Admission £2. Refreshments. It is
going to be big!
Thurs 21st – DAN HOLMES, an American folk-singer will return for his
second visit to Worcester, to play at St Andrew's, in the Church. A mellow,
uplifting evening is promised!
Sat 23rd – STRAWBERRY TEA in the Hall. Come and go as you please during
the afternoon. Meet your old colleagues and friends.
Sun 24th – 10.30 am MORNING WORSHIP led by Rev Anne and Jim Smith.
Anne was minister 2000 – 2014. Bringing everything together in praise and thanksgiving to God.
Sun 18th November.   50th Anniversary  Circuit Service.  Local civic dignitaries and other Church leaders from the area will be invited.