Annual Victorian Fayre
During the city's V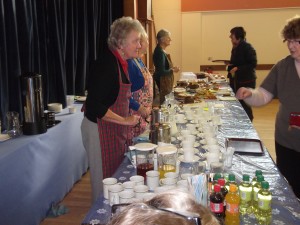 ictorian Fayre held in early December each year, and in addition to the usual Saturday morning refreshments, the catering committee provide light lunches for the vast numbers of visitors who descend on the town for the event. The refreshments are particularly popular with coach parties who come from as far a field as the south coast of England, South Wales and the West Midlands. Many visitors return year after year from all over the country, but the lunches also prove popular with shoppers who are just passing by and who welcome a break from their Christmas shopping. At some point during the morning, the Saint Andrew's Singers usually provide a session of carol singing to add to the festive mood.
 Menus for visiting parties at any time
Throughout the year and by arrangement, the catering committee can also cater for visiting parties to the city. For example, if you are arranging a coach trip and would like your people to have refreshments at St Andrew's they can be dropped off at the roundabout opposite the cathedral, adjacent to Cathedral Plaza Shopping Centre. St Andrew's Methodist Church is a 150 metres (approximately) walk away from the drop off point and there is easy access via a lift (or stairs) to the first floor hall where refreshments will be served.
We offer the following menus (costs are per person): –

                                              ###

 Coffee/tea with biscuits – £1.50
Menu A

Menu B

Menu F

Menu G

Soup with roll and butter


£2.00 p.p 




Ham or cheese salad with new potatoes, Puddings, tea or coffee


 £8.00 p.p




Selection of sandwiches, hot savouries, cakes, tea or coffee


£8.50 p.p 




Selection of sandwiches, cakes, tea or coffee


£6.50 p.p 



For other options please contact Gill Dickinson, below : -
Make your booking
If you would like to make a booking, please telephone Gill Dickinson to confirm the date as soon as possible and to discuss the menu that you would require and any other requirements you may have. Final numbers for catering should be confirmed at least seven days before an intended visit.
We look forward to your visit.
For bookings, please contact, Gill Dickinson: 01886 832894 or   dickinson.gill@btinternet.com