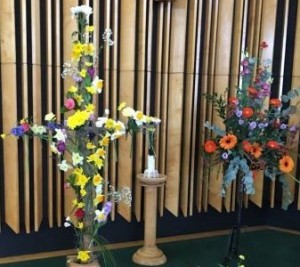 AN OFFICE OF COMMENDATION
                                     (from Methodist Worship Book pp 437 – 441)
Suggested for use when hearing of a death or on the day of the funeral by those not able to be present.
 GATHERING
Christ your light shall rise in the darkness, and your healing shall spring up like the dawn.
The light and peace of Jesus Christ be with you.  And also with you.
The trumpet shall sound and the dead will rise immortal, and the mortal will be clothed with immortality.
Either of the following prayers may be said
God of love, who brought us to birth and in whose arms we die; in our grief and shock, contain and comfort us, give us hope in our confusion and embrace us with your love; through Jesus Christ. Amen
OR God of mercy, from whom we come, by whose grace we live, in whose love we are held at the last: surround us with your presence that in our grief and loss we may find assurance and hope in the One who died for us and rose again, even your Son, Jesus Christ our Lord. Amen.
SCRIPTURE
A Psalm – suggested Psalms 23, 42, 121, 130 or 139
One of the following, or another Bible passage. John 11: 21 – 27, John 14: 1 – 3, Romans 6: 3- 9, Philippians 1: 20 – 26.
MEMORIES MAY BE SHARED
Gracious God, we praise you for creating us in your own image, and calling each one of us to love and serve you. We thank you for N and for all we treasure and remember with gratitude about him/her.
As memories fill our minds, assure us of your forgiveness for things said or done which we regret; for things we longed to do, but never did; longed to say but never said. Give us strength and courage to leave N in your keeping, trusting in your everlasting goodness; through Jesus Christ our Lord. Amen.
God of mercy, as N has journeyed beyond our sight, we commend her/him to you.
PRAYERS
God of all consolation, in your unending love and mercy you turn the darkness of death into the dawn of new life. Your Son, by dying for us, conquered death and, by rising again, restored to us eternal life.
May we go forward eagerly to meet our Redeemer and, after our life on earth, be reunited with all our sisters and brothers in that place where every tear is wiped away and all things are made new; through Jesus Christ our Saviour.   Amen.
The Lord's Prayer
Our Father, who art in heaven, hallowed be thy name; thy kingdom come; thy will be done; on earth as it is in heaven. Give us this day our daily bread. And forgive us our trespasses, as we forgive those who trespass against us. and lead us not into temptation; but deliver us from evil. For thine is the kingdom, the power, and the glory, for ever and ever. Amen.
Either of these two prayers
Magnified and sanctified be the great name of God, in the world created according to his will.
May God establish his kingdom in your life and in your days, and in the lifetime of all his people: quickly and speedily may it come. Amen.
Amen! Blessed be God for ever!
Blessed, praised and glorified, exalted, extolled and honoured, magnified and lauded be the name of the Holy One. Amen
Amen! Blessed be God for ever!
Though God be high above all the blessings and hymns, praises and consolations, which are uttered in the world, let us say Amen.
Amen! Blessed be God for ever!
May there be abundant peace from heaven and life for us and for all people. Amen.
Amen! Blessed be God for ever!
OR
Now to the one who is able to keep us from falling and set us in the presence of the divine glory, to the only God our Saviour, be glory and majesty, dominion and praise, now and for ever. Amen
BLESSING
The peace of God which passes all understanding, keep our hearts and minds in the knowledge and love of God, and of his Son, Jesus Christ our Lord; and the blessing of God, the Father, the Son and the Holy Spirit, remain with us always. Amen
This text is © 1999 Trustees for Methodist Church Purposes
They are only being reproduced now, for personal use during the Coronavirus pandemic 2020.